Ibiza Town (Eivissa)A popular day out in Eivissa is the old town, which has endless streets to explore! From the shops to the sights to wild nightlife, here is everything to know about the town when making your visit!
Shopping
If you need some retail therapy, then look no further! Ibiza Town is home to hundreds of shops ranging from fashion to gifts. The major retailers that you'll find here are Zara, Kiko, Berschka, Guess, MAC, Pull & Bear, Mango and La Sirena along with all of the official club stores as well!
If you take a venture into the back streets, you will find more authentic, hand-made shops with traditional Spanish boutiques. One for the men is a small shop called ML, which is opposite the Guess store and stocks brands such as Dsquared2, Moschino, Hugo Boss and more!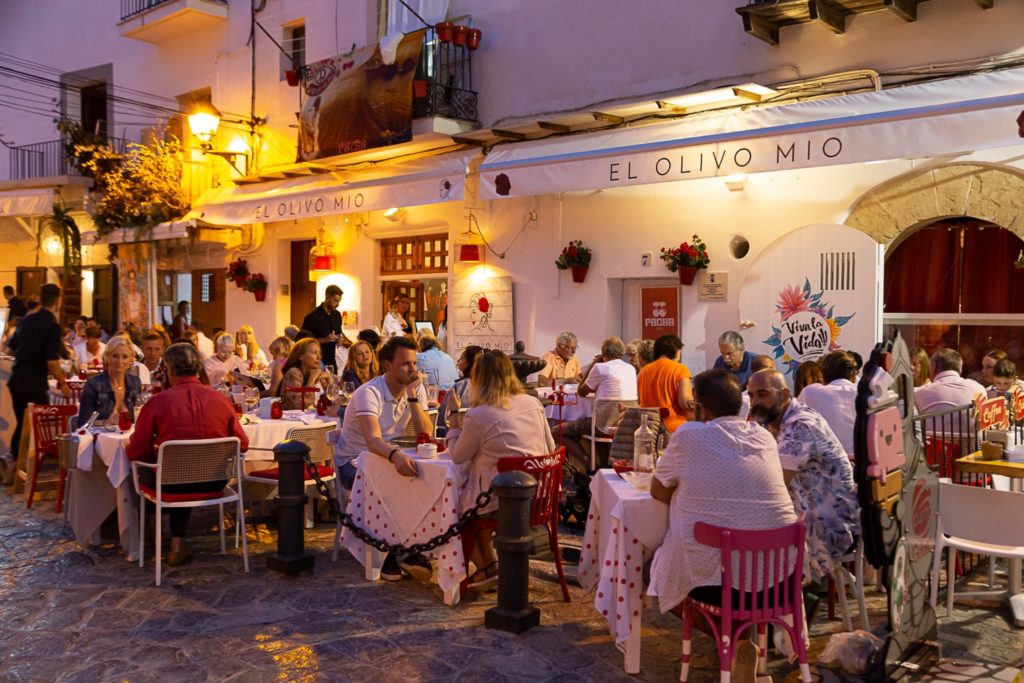 Food & Drink
Ibiza Town is endless in its options for food and refreshments. With a variety of eateries offering cuisines from every corner of the globe. In and around the back streets, you'll find it easy to find plenty of home-run restaurants serving the typical Spanish tapas, which is a must whilst in Ibiza, including a personal favourite of ours, La Brasa!
However, if you want If you're looking for to dive into the melting pot we recommend trying Izakaya or Kyupiddo for some Asian fusion. Nearby you also have the chains if you fancy something more on the go Hard Rock Café, McDonald's and Burger King all in the centre! If you're fancying a quick coffee and ice cream, you'll find yourself deciding between hundreds all unique in their own right!
Sightseeing
One of the most amazing things about Ibiza Town is the never-ending things to see! Take a walk around the back streets, the harbour front, visit the square and while soaking up the sun! 
Explore the real history of the incredible capital take a stroll up into Dalt Vila and around the walls of the castle of Ibiza! When the sun goes down, head to the backstreets and witness parades and performers dancing in the street. If you head down to the port you can witness how the other half live with some of the biggest and most expensive yachts in the world on show.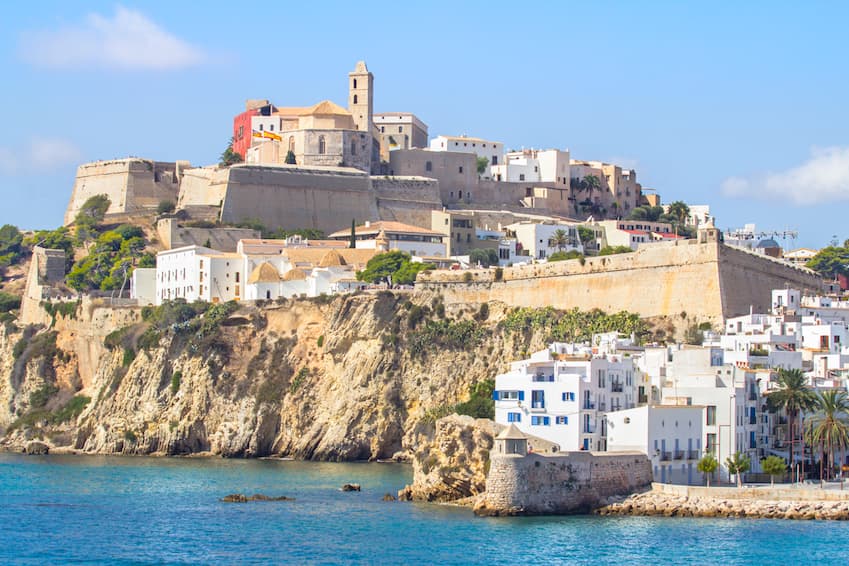 Nightlife
No trip to Eivissa is complete without visiting some of the famous bars and discotheques. In Ibiza Town they no how to put on a show With some of the biggest clubs and quirkiest bars, you will never be short of entertainment. Pacha, one of the biggest and the original super club in Ibiza has a variety of nights including favourite Flower Power.
However, if nightclubs are not your thing there are hundreds of independent bars, each as lively as the next. Keep an eye out for is Paradise Lost, a boutique bar that offers delicious cocktails while some top selectors take to the decks.
How to get there
The capital of the island is straightforward to access. Bus routes go direct from San Antonio and all other major towns on the island costing just 4 Euros return! Alternatively, you can catch a taxi from wherever you are, while it'll cost a bit more you will get there slightly quicker!
Beaches are a thing that Ibiza is not short of, with over 80 stunning spots around the island's coastline! Boasting views like no other together with the Mediterranean heat, nothing can quite beat the Ibiza beach feeling.
Cala Conta (Cala Comte)
This Ibiza beach is one of the more well-known on the island. Welcoming thousands of tourists every summer to its sugar-white sands and crystal-clear waters! There are two amazing sides to this beach with a rustic restaurant situated in the middle of them both! 
Many people have argued that the sunset view from Cala Comte is one of the best on the island. Enjoy one of the best Sunset spots at Sunset Ashram for a cocktail and chilled Balearic beats! On one of the beaches, you will also find some old fishing huts which are perfect for that holiday photo! Access to this beach is fairly easy with buses running there or by car!
Cala Bassa
Notoriously known as one of the best beaches on the white isle. Cala Bassa can be accessed by boat or car but to get the full experience take the boat option! Stepping off the boat, you'll be greeted by an incredible view and a perfect picture spot under the 'Welcome to Playa Cala Bassa' arch!
A wide stretch of white sand and turquoise waters will make sure that your Ibiza beach expectations are truly met!  The famous Cala Bassa Beach Club is set on the beach here it stretches across the back of the beach and is one of the islands most popular spots for food coupled with a daytime beverage!
Cala Tarida
Located on the south-west of the island, but rarely visited by tourists. This under the radar beach is popular with the locals of Ibiza but always welcoming to tourists! A beautiful beach dotted with rocks for climbing and jumping off and with a healthy scattering of beach lounges and restaurants, this beach is a great spot to spend a day.
As you arrive in Cala Tarida, you'll spot signs pointing you to Tarida North or South but once you're on the beach you'll find it's not an arduous journey from one end to the other; their distinction only really matters for access. If you arrive at Tarida North you'll be descending to the beach via some fairly steep stone steps, but head Tarida south you're straight onto the beach!
Cala D'Hort
This spot is particularly famous for one thing, in particular, for its jaw-dropping view of the Es Vedra rock! A great beach to spend the day sunbathing and taking a dip in the blue waters. Finish it off with a picturesque sunset looking out onto the world's third most magnetic point, Es Vedra!
 If you're feeling a bit peckish there are a couple of little restaurants set back from the beach that offer some amazing seafood. The best way to access this beach is by car or taxi!
Playa de Ses Illetes (Formentera)
Arguably one of the most beautiful beaches in the world, here you'll find the Caribbean looking paradise with completely white sands and water so clear you can see your toes! People's jaws drop as they step onto this beach as the views are unbelievable looking out over the mainland of Ibiza! 
To get to Formentera you can catch a boat from Ibiza Town which takes half an hour! In terms of food and drink, there are restaurants further inland in a short taxi ride. We recommend taking a few bits with you as you won't want to leave this paradise! A popular thing to do on Formentera is to hire a moped for the day, allowing you to explore the whole island and all its wonders!
Back with a bang, Pukka Up return to San Antonio Ibiza for 2020 and its 18th year holding the world's biggest boat party every week throughout the summer! Setting sail from San Antonio Ibiza every Tuesday, Thursday & Saturday throughout the summer, join us as we head out to sea for a sunset session like no other.
Returning to the white isle with the freshest DJ talent while the sunsets with a boat full of partygoers. Accompanied by live sax & percussion performances from Matt Saxx and Monka, you're guaranteed to have some seriously euphoric goose-bump moments!
COVID-19
With uncertainty in the air as COVID-19 looms, we made a step forward and took matters into our own hands. Pukka Up also introduces cover for customers bookings for an event that is cancelled as a result of the virus. This protection offers a full refund in this unfortunate circumstance should it happen.
We aim to keep everyone informed with the advice we receive from the World Health Organisation and also Local Authorities! Our hopes stay high for the summer ahead in San Antonio Ibiza, as we continue to keep in touch with everyone via social media with positive posts to look forward to better times ahead in the future! Remaining hopeful that the summer goes ahead as planned. Knowing that if it does, it will undoubtedly be the best one yet with an atmosphere like no other.
Packages
With Ibiza 2020 approaching on the horizon, bookings have now gone live, with packages including entry to the world-famous O Beach for events such as SIN Sunday's and Hotbed so you can experience the Ibiza beach club atmosphere! Added to this, is legendary Ibiza nightlife as you also get entry into Eden for events Garage Nation and WNDRLND! Don't miss out on an unforgettable experience with us on the greatest party island in the world!