What are the entry requirements for U.K. residents travelling to Ibiza in 2022.
You're packed and ready to go! Your PUKKA UP boat is booked and the taxi is on its way to take you to the airport….other than a passport and maybe a driving licence what do you need… 
We have included the official blurb below but the basics are….you need your NHS App with a QR code to show you have had Covid vaccinations. 
You may also require a Spanish Health (SPTH)QR code which requires your details and vaccinations. How to apply is in section b( below). This is sometimes not required if you have your NHS App but it's best to register.
1. If you travel to Spain by air (except for children under 12 years of age and those in international transit) regardless of the country of origin of the trip (including Spaniards returning home), you must have one of these documents:
a) An EU Digital COVID Certificate or equivalent. Check here if your certificate is considered equivalent by the issuing country. It has been suggested that the NHS App containing your COVID Pass will be accepted on arrival.
Upon your arrival at the airport, you will have to follow indications for the Orange Way.
b) If you do not have an EU Digital COVID Certificate or equivalent, you must complete a health control form before your departure. You can do it through the https://www.spth.gob.es/ website or the Spain Travel Health app for Android devices or iOS.
Once completed, you will obtain a QR code that you will have to present both at the time of boarding and upon arrival in Spain.
Upon your arrival at the airport, you will have to follow indications for the Blue Way.
Masks are required when travelling to ibiza by air, but as from April 20th they are no longer required in Spain or the islands except in taxis, public transport and hospitals or surgeries. 
Currently when returning to the U.K. you don't require any additional checks or passes.
Don't forget to register for our 2022 ticket launch
Tickets already launched? Head to our 2022 event calendar here
Pukka Up 
(Last updated: Thursday 21st April 2022)
Ibiza Town (Eivissa)A popular day out in Eivissa is the old town, which has endless streets to explore! From the shops to the sights to wild nightlife, here is everything to know about the town when making your visit!
Shopping
If you need some retail therapy, then look no further! Ibiza Town is home to hundreds of shops ranging from fashion to gifts. The major retailers that you'll find here are Zara, Kiko, Berschka, Guess, MAC, Pull & Bear, Mango and La Sirena along with all of the official club stores as well!
If you take a venture into the back streets, you will find more authentic, hand-made shops with traditional Spanish boutiques. One for the men is a small shop called ML, which is opposite the Guess store and stocks brands such as Dsquared2, Moschino, Hugo Boss and more!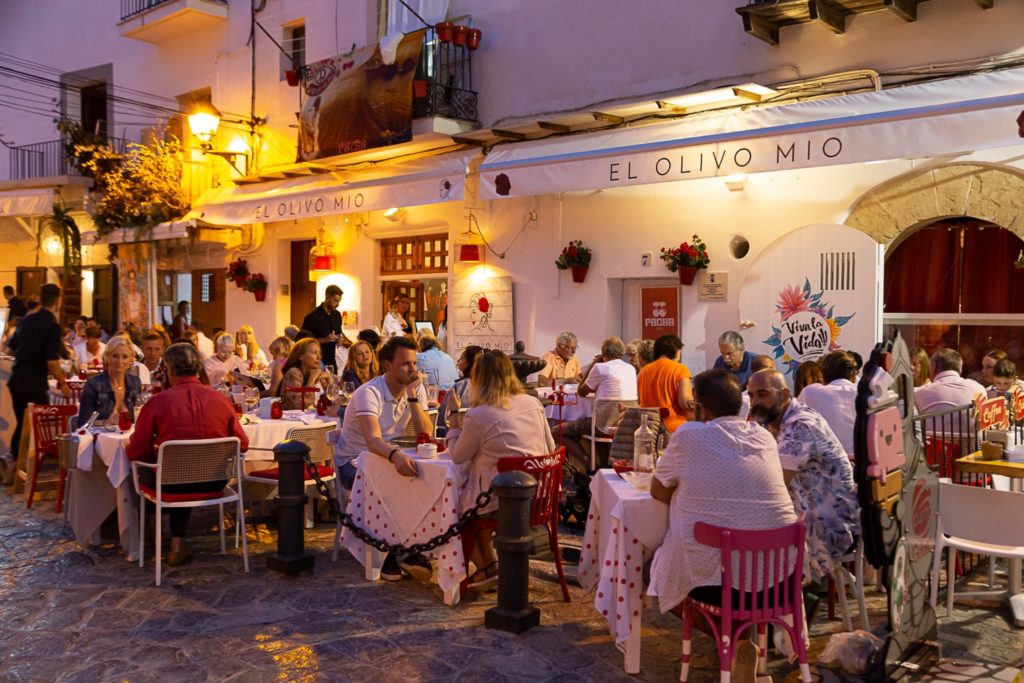 Food & Drink
Ibiza Town is endless in its options for food and refreshments. With a variety of eateries offering cuisines from every corner of the globe. In and around the back streets, you'll find it easy to find plenty of home-run restaurants serving the typical Spanish tapas, which is a must whilst in Ibiza, including a personal favourite of ours, La Brasa!
However, if you want If you're looking for to dive into the melting pot we recommend trying Izakaya or Kyupiddo for some Asian fusion. Nearby you also have the chains if you fancy something more on the go Hard Rock Café, McDonald's and Burger King all in the centre! If you're fancying a quick coffee and ice cream, you'll find yourself deciding between hundreds all unique in their own right!
Sightseeing
One of the most amazing things about Ibiza Town is the never-ending things to see! Take a walk around the back streets, the harbour front, visit the square and while soaking up the sun! 
Explore the real history of the incredible capital take a stroll up into Dalt Vila and around the walls of the castle of Ibiza! When the sun goes down, head to the backstreets and witness parades and performers dancing in the street. If you head down to the port you can witness how the other half live with some of the biggest and most expensive yachts in the world on show.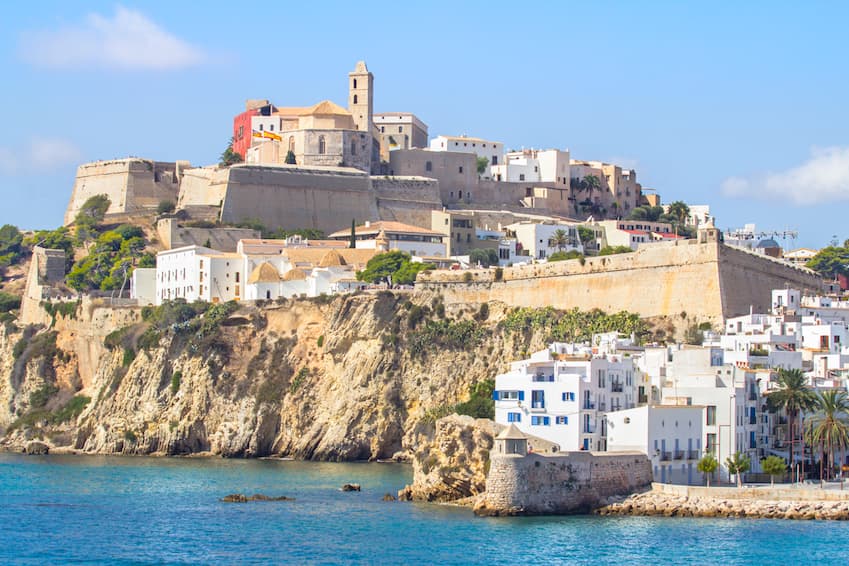 Nightlife
No trip to Eivissa is complete without visiting some of the famous bars and discotheques. In Ibiza Town they no how to put on a show With some of the biggest clubs and quirkiest bars, you will never be short of entertainment. Pacha, one of the biggest and the original super club in Ibiza has a variety of nights including favourite Flower Power.
However, if nightclubs are not your thing there are hundreds of independent bars, each as lively as the next. Keep an eye out for is Paradise Lost, a boutique bar that offers delicious cocktails while some top selectors take to the decks.
How to get there
The capital of the island is straightforward to access. Bus routes go direct from San Antonio and all other major towns on the island costing just 4 Euros return! Alternatively, you can catch a taxi from wherever you are, while it'll cost a bit more you will get there slightly quicker!