An update on our summer campaign, introducing Pukka Cover to protect against Covid-19 cancellations!
Pukka Up Family,
We find ourselves in a situation that is affecting everyone globally with Covid-19. We're amazed by the show of strength and unity throughout the worldwide community. We want to send our love 16o each one of you and hope you, your family and your friends are safe in this difficult time.
Preparations for our Ibiza 2020 campaign are ongoing. Our team is working tirelessly each day to ensure that we're ready to deliver events. We understand that there is a lot of uncertainty about whether events will have to be cancelled or postponed which is why our ticket launch has been delayed. Firstly, we wanted to say thank you for your patience. Secondly, we have been receiving many enquiries about tickets so we have decided to launch our event calendar on Thursday 2nd April 2020 at 10 am.
We've got you covered with Pukka Cover!
We have been working to put provisions in place so that we can offer you the customers full protection should any of our events be cancelled due to the COVID-19 virus. Included with tickets for Ibiza 2020 is Pukka Cover, where you will receive a refund on your ticket. If any of our events are cancelled due to COVID-19 or actions implemented by authorities that affect events. It truly is Pukka Cover!
Above all our priority is the health of our customers and staff and will continue to be over the coming months. We will be updating you all with the advice we receive from The World Health Organisation, National and local authorities.
In addition, we hope you all stay safe and please follow the advice on Covid-19 and stay at home. Then we can all get back to where we belong on that beautiful white island we call home, Ibiza!
Tickets will be available from www.pukkaup.com.
In the meantime stay up to date with us through Facebook or Instagram!
Heading to Ibiza? We've put together a list of things to cross off the Ibiza bucketlist.
Step into the new year and forget about the long cold winter nights. We have some exciting news coming for our summer 2020 Parties across the globe.
In 2019 you helped us conquer Europe with over 200 boat parties in 7 resorts. In 2020 we return to our home Ibiza for our 18th year and we thought we would give you a few tips from our fave things on the island.
So here's our list of 5 things to do in Ibiza 2020:
1| Swim in the crystal clear waters of one of Ibiza's famous beaches.
Ibiza has a some of the best beaches on the planet with some of the whitest sand and clearest waters. Explore and find hidden gems just 15 – 30 minutes from the big resorts. Check out our favourites Cala Salada, Cala Conta, Aguas Blancas and Benirrás
|
2| Go VIP at O Beach Ibiza for one of their lavish pool parties.
O Beach has become one of the most popular venues in Ibiza. Offering a mix of luxury tables and beds, Unreal production and the lively atmosphere makes this one not to miss.
|
3| Treat yourself to one of the amazing restaurants that the island has to offer.
Ibiza is a great place for any foodie, with every style restaurant you can imagine available on the island. One of our favourites is the new to 2019 San Antonio restaurant Es Gerret. Even more, prices are kept very reasonable for some of the finest food on the island, we recommend the sea bass.
|
4| Visit Es Vedra view point
One of the most awe inspiring views you will ever see in your life. Es Vedra offers one of the most magical places to watch the sunset and get in touch with your inner spirit.
|
5| Join us on The Worlds Biggest Boat Party
Now we might be a bit biased on this one, but their is nothing quite like partying out at sea with uplifting house and our live musicians. Above all Pukka Up provides one of the best viewpoints of the famous Ibiza sunset.
You can now register to be the first inline for exclusive ticket deals and 2020 updates. Register at www.pukkaup.com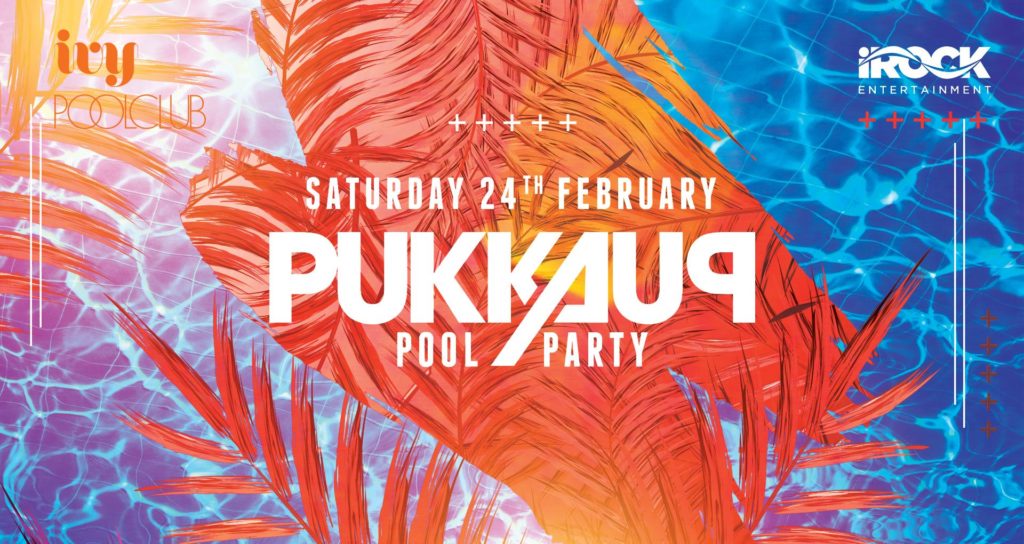 We can't stay away! After our packed-out pool party at The Ivy Pool Club in December, we are heading for Sydney once again for another instalment of our paradisiacal pool parties!
On the 24th February we get our bikinis and swimmers out once again and invite you to do the same as we host an all-day party at Sydneys hottest pool party location The Ivy! A sell out party with Pukka Up's infamous sounds of Ibiza mixed with the unstoppable Aussie attitude creates an unrivalled atmosphere which makes this party unmissable.
As the Australian summer comes to a close, Pukka Up plan to go bigger and better to make sure we make the most of the sun and celebrate with a bang. Expect next level entertainment with LIVE performances, The finest DJ talent, A plethora of glitter and body paint (of course) and The World Famous Pukka Up Dancers.
After a bulked-out tour in 2017, Pukka Up continues to add more and more dates to its 2018 schedule. Whilst continuing to take the already established parties to the next level!
LINEUP:
🌴 BONAFIDE
🌴 KOSTA
🌴 BILMAN
🌴 TEE
🌴 ZAPPA
🛏 We currently have 3 Cabana spaces available for private hire. Please contact us if you are interested 🛏
For Inquiries contact: info@sydneyviplist.com.com
ACCEPT NO IMITATIONS, PUKKA UP!